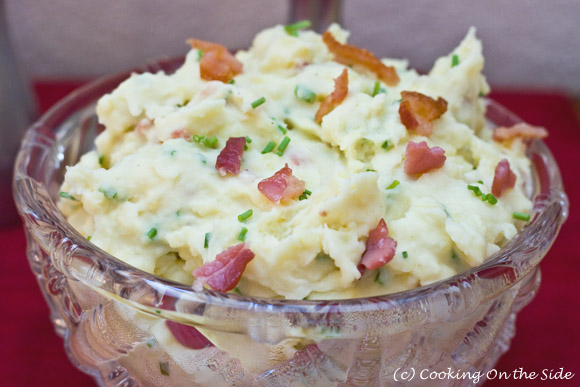 Serves 6
INGREDIENTS:
2 cans (14 oz. each) chicken broth (3 1/2 cups)
5 large potatoes, peeled and cut into 1″ pieces
1/2 cup light cream
2 tablespoons butter
Generous dash ground black pepper
1/2 cup sour cream
3 slices bacon, cooked and crumbled
1/4 cup chopped fresh chives
DIRECTIONS:
Heat broth and potatoes in a 3-quart saucepan over medium-high heat to a boil. Reduce heat to medium. Cover and cook for 10 minutes or until potatoes are tender. Drain, reserving broth.
Mash potatoes with 1/4 cup broth, cream, butter and black pepper. Stir in sour cream, bacon (reserve some for garnish) and chives. Sprinkle with remaining bacon.