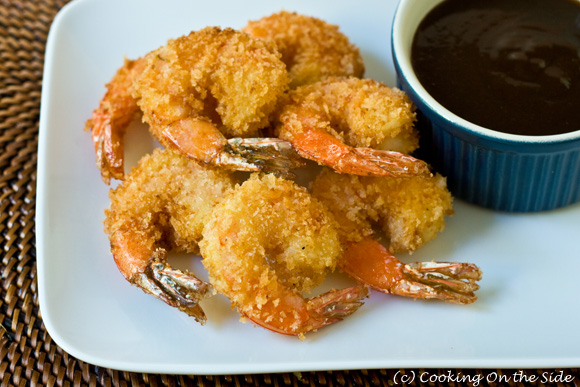 Serves 3 to 4
INGREDIENTS:
3 large eggs
1/3 cup all-purpose flour
3/4 teaspoon salt
1/2 teaspoon black pepper
1 lb. jumbo raw shrimp, peeled and deveined, leaving tails on
1 1/2 cups panko bread crumbs
Vegetable oil
DIRECTIONS:
Beat eggs in a medium bowl until frothy. Mix flour, salt, and pepper in another medium bowl. Dredge shrimp in flour mixture, shaking off excess. Dip shrimp into eggs and then coat both sides with panko, pressing panko onto shrimp.
Pour enough oil into a large, heavy pot to reach depth of 2 inches and heat oil to 350°F. Working in batches, add shrimp to hot oil and deep-fry until cooked through, about 1 minute.
Remove and drain shrimp on paper towels. Arrange shrimp on platter. If desired, serve with tonkatsu sauce for dipping.