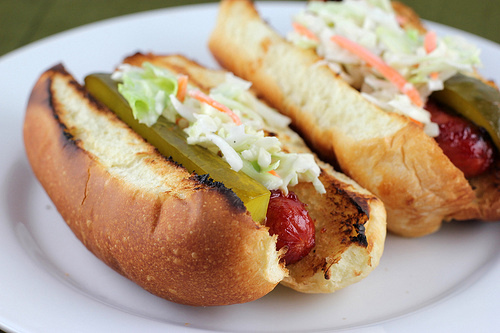 Ingredients:
8 kosher beef hot dogs
8 hot dog buns
½ cup BBQ sauce
8 dill pickle spears
Coleslaw-
¾ cup mayonnaise
½ small white onion (minced)
2 tablespoons sugar
1 teaspoon celery salt
3 tablespoons apple cider vinegar
salt and pepper (to taste)
1 head cabbage (finely shredded)
1 large carrot (finely shredded)
Cooking Instructions: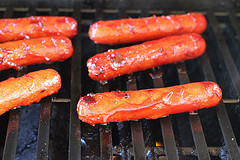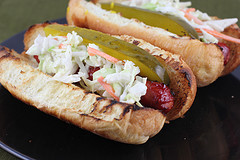 Step 1:
To make coleslaw- In a large bowl whisk together mayonnaise, onion, sugar, celery salt, vinegar, and salt and pepper. Add the cabbage and carrot and stir to combine. Cover and refrigerate for 15 minutes.
Step 2:
Heat the grill to medium high heat and lightly grease the grill grate. Place hot dogs onto the grill and brush all around with BBQ sauce while grilling. Grill until golden brown. Remove from the grill. Place hot dog buns on the grill cut side down and grill until lightly browned (about 20 seconds)
Step 3:
Place a hot dog into each bun and top with a dill pickle spear and coleslaw.
(Makes 4 Servings)