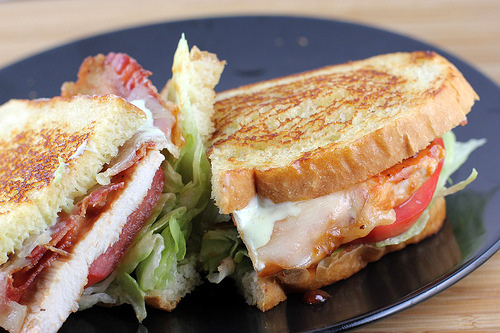 Ingredients:
4 boneless skinless chicken breasts halves
¼ cup BBQ sauce
8 slices bacon
8 slices Swiss cheese
2 large tomatoes (sliced)
lettuce
8 slices sour dough bread (to toasted)
½ cup ranch dressing
1 small avocado (peeled, pitted, and sliced)
Cooking Instructions: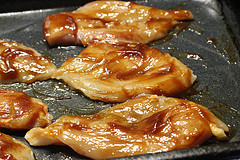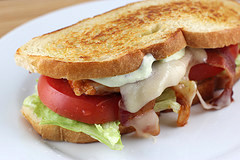 Step 1:
Pre-heat the oven to 375 degrees. Spray a baking sheet with cooking spray. Brush both sides of the chicken breasts with bbq sauce and place onto the baking sheet. Top each chicken breast with 2 slices of bacon.
Step 2:
Bake chicken breasts for 25 minutes or until the internal temperature has reached 165 degrees. During the last couple minutes of cooking top each chicken breast with 2 slices of Swiss cheese and allow it to melt. Remove from the oven. While chicken is cooking in a food processor blend together ranch dressing and diced avocado. Set aside.
Step 3:
Lay down one slice of sour dough bread. Top with lettuce and 2 slices of tomato. Top the tomato with a chicken breast. Spread avocado ranch dressing onto the bottom of the top slice of bread. Place on top of the sandwich.
(Makes 4 Servings)