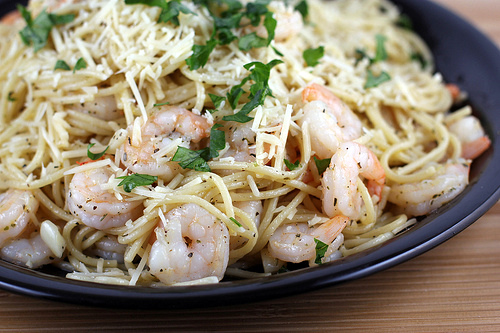 Ingredients:
1lb medium shrimp (peeled, deveined, with tails removed)
1lb uncooked spaghetti noodles
8 garlic cloves (minced)
¼ cup butter
2 teaspoons olive oil
Italian seasoning
black pepper
red pepper flakes
salt
Cooking Instructions: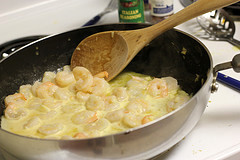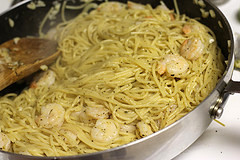 Step 1:
Boil pasta in water according to package directions. Reserve 1 cup of the pasta water for use at a later time. Drain the pasta.
Step 2:
While the pasta is boiling, in a large deep skillet over medium heat, melt the butter. Add shrimp and cook until they are little pink. Add garlic and cook 5-7 minutes. Add olive oil and continue to cook shrimp until they are pink.
Step 3:
Add pasta to the skillet, season with Italian seasoning, red pepper flakes, black pepper and salt. Add enough of the saved pasta water till the mixture is not dry but not simmering in liquid (start by adding ¼ of a cup and work your way up from there). Keep tossing all the ingredients around in the skillet until it is well combined and hot.
(Makes 4 servings)