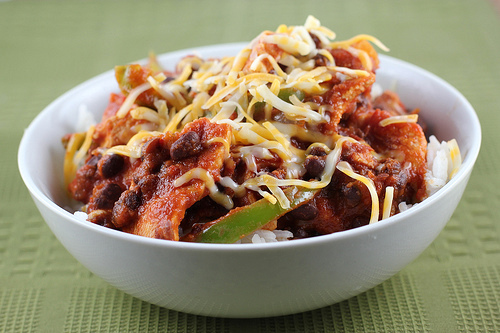 Prep time:
15 minutes
Cook time:
20 minutes
Ingredients:
1lb boneless skinless chicken breasts (cut into bit sized pieces)
1 can black beans (drained and rinsed)
2 cups crushed tomatoes
½ cup green pepper (diced)
¼ cup onion (diced)
3 teaspoons chipotle in adobo sauce (minced)
½ teaspoon cumin
1 teaspoon garlic powder
4 corn tortilla chips (broken into pieces)
2 cups cooked hot white rice
lettuce, sour cream, and cheese
Cooking Instructions: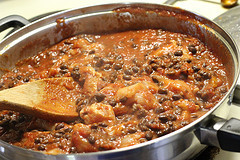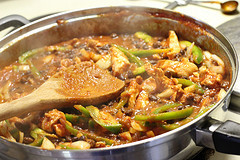 Step 1:
In a large saucepan over medium high heat combine chicken, black beans, tomatoes, peppers, onions, chipotle peppers in adobo sauce, cumin and garlic powder. Bring to a boil, reduce heat and simmer for 20 minutes or until chicken is fully cooked.
Step 2:
Divide the hot cooked rice into four bowls. Place chicken mixture on top of the rice in each bowl, and top with chips, cheese, sour cream and lettuce.
Yield:
(4 Servings)