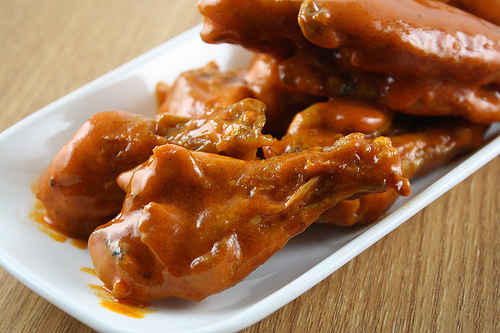 Ingredients:
3lbs chicken wings
1 tablespoons cayenne pepper
1 teaspoon crushed red pepper flakes
2 teaspoons salt
Spicy Garlic Sauce-
1 cup Frank's Red Hot SAUCE
1/3 cup vegetable oil
1 teaspoon sugar
1 teaspoon garlic powder
½ teaspoon black pepper
½ teaspoon cayenne pepper
½ teaspoon Worcestershire sauce
1 egg yolk
2 teaspoons water
2 teaspoons cornstarch
Cooking Instructions: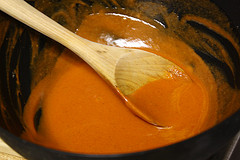 Step 1:
In a small sauce pan over medium heat combine hot sauce, vegetable oil, sugar, garlic powder, black pepper, cayenne pepper, and Worcestershire sauce. Mix well and bring to a boil. Reduce heat and simmer for five minutes. Remove from the heat. In a medium bowl whisk together egg yolk and water. Add cornstarch and continue to whisk until its completely dissolved.

Step 2:
Slowly add warm hot sauce mixture to the egg mixture while whisking. Do this until it is well combined. Cover and chill sauce until needed.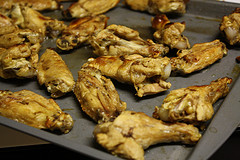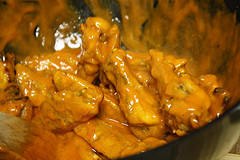 Step 3:
Fill a large pot of water halfway full and then add cayenne pepper, red pepper flakes and salt. Bring the mixture to a boil and boil for 15 minutes. After the wings have finished boiling, drain and lay wings out on a baking sheet coated with cooking spray. Using the broiler on your oven, broil the wings for 15 minutes on each side.
Step 4:
Toss wings with spicy garlic sauce and serve.
(Makes 6 Servings)