Ingredients:
1lb Velveeta Mexican Cheese
12 ounces cream cheese
3 tomatoes (chopped)
1 bunch green onions (chopped)
3-6 jalapeno peppers (seeded and chopped)
2-3 garlic cloves (minced)
½ bunch cilantro (chopped)
black pepper (to taste)
Cooking Instructions: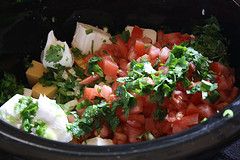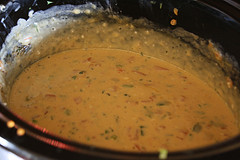 Step 1:
In a microwave safe dish melt Velveeta and cream cheese until smooth. Stir in tomatoes, green onions, jalapeno peppers, garlic, cilantro and black pepper. You can also use a slow cooker or melt the cheeses on the stove top.
Step 2:
Serve warm and eat with tortilla chips.