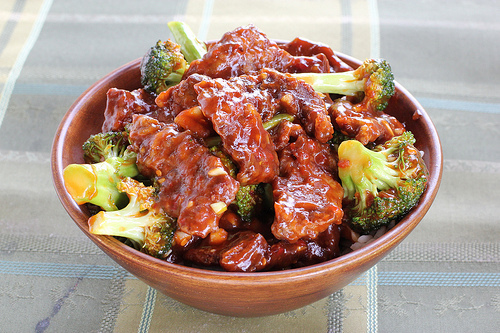 If you don't want to use broccoli, you can replace it with another vegetable or several other kinds of vegetables. Serve with white rice.
Prep time:
20 minutes
Cook time:
20 minutes
Ingredients:
3/4lb flank steak (sliced into thin strips)
1 egg white
1 tablespoon cornstarch
oil (for frying)
2 tablespoons soy sauce
1 tablespoon chili paste with garlic
1 ½ teaspoons cornstarch
½ teaspoon sugar
Several drops sesame oil (to taste)
2 garlic cloves (minced)
4 cups broccoli florets
1 tablespoon dry sherry
1/8 teaspoon salt
Cooking Instructions: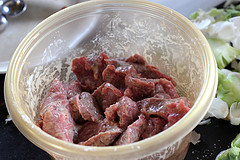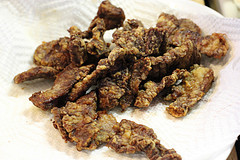 Step 1:
In a medium bowl combine beef, egg white and cornstarch. Mix well and set aside. In another bowl mix together soy sauce and chili paste. Mix in 1 ½ teaspoon cornstarch, sugar, sesame oil, and garlic. Set aside.
Step 2:
Heat oil in a deep fryer to 375 degrees. Deep fry strips of beef in batches for about 2-3 minutes or until golden brown. Drain on paper towels.
Step 3:
Heat a wok or skillet over medium-high heat. Add the sauce mixture to the wok and cook until it becomes thickened and bubbly. Mix in cooked beef strips and cook for 1 minute. Remove beef and sauce from the pan to a platter and set aside.
Step 4:
Wipe the fry pan clean. Heat 1 tablespoon of oil in the wok or skillet over medium high heat. Add sherry and salt. Add broccoli florets and stir fry for 1 minute. Serve broccoli with the beef mixture and white rice.
Yield:
(4 Servings)