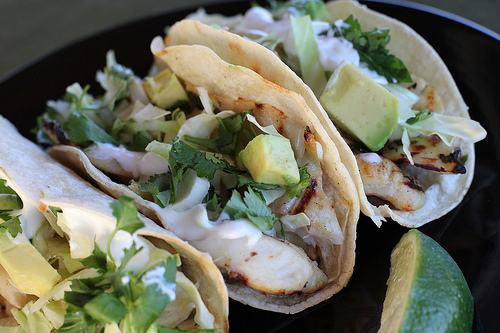 Ingredients:
1lb tilapia fillets
Salt and black pepper (to taste)
Marinade-
1 cup white onion
¼ cup cilantro (chopped)
¼ cup olive oil
3 tablespoons lime juice
3 tablespoons orange juice
2 garlic cloves (minced)
1 teaspoon oregano
Lime Sour Cream Sauce-1 cup sour cream
2 tablespoons lime juice
Tacos-corn tortillas
1 cup onion (diced)
½ cup cilantro (chopped)
2 avocados (peeled, pitted, and diced)
½ small head of cabbage (thinly sliced)
salsa verde
Cooking Instructions: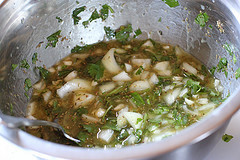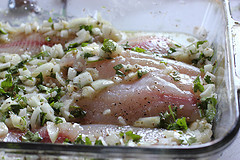 Step 1:
In a medium bowl combine 1 cup onion, ¼ cup cilantro, olive oil, 3 tablespoons lime juice, 3 tablespoons orange juice, garlic, and oregano. Mix well. Sprinkle fish fillets on both sides with salt and pepper to taste. Spread half of the marinade mixture onto the bottom of a large casserole dish. Arrange fish fillets on top of the marinade. Spoon the remaining marinade over the top of the fish fillets. Cover and refrigerate for 30 minutes. After 30 minutes, turn the fish fillets over, cover, and marinade for 30 minutes longer.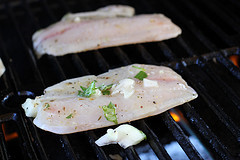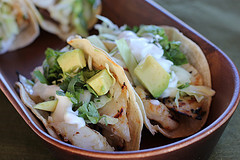 Step 2:
In a small bowl whisk together sour cream and 2 tablespoons of lime juice. Cover and set aside. Brush the grill grates with olive oil or spray with cooking spray. Heat the grill to medium high heat. Place fish fillets onto the grill and cook for 3 to 5 minutes per side or until the fish is fully cooked. Remove fish from the grill. Place corn tortillas onto the grill and grill for about 10 seconds per side.
Step 3:
Chop cooked fish fillets. To assemble tacos- place some of the chopped fish onto each tortilla. Top with lime mayonnaise, cilantro, onion, avocados, cabbage, and salsa verde.
(Makes 4 Servings)