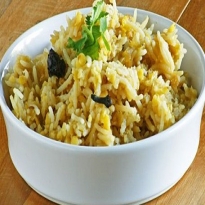 1 cup
basmati
rice
1/4 cup
arhar daal
1/4 cup
channa daal
1/4 cup
moong daal
2 tbsp clarified butter
1 tsp cumin seeds
2 bay leaves
1 tbsp ginger-finely chopped
1 tbsp salt
1/2 tsp
garam masala
1/2 tsp chilli powder
2-3 green chillies-chopped
METHOD:
Soak the rice and daals together for at least 1/2 hour. Drain and keep aside until further use.

Heat ghee in a heavy-based saucepan and add cumin seeds and bay leaves.

When the seeds splutter, add ginger and sauté till a light brown.

Add drained rice mixture, coriander powder, salt, garam masala, chilli powder and stir a few times well mixed.

Sauté over high flame, till excess water dries up.

Add green chillies and 3 1/2 cups water, bring to a boil.

Lower flame, cover and simmer for about 15 minutes.

Serve hot, garnished with coriander leaves.