Mutter...Peas Chaat....
2 cups Peas, fresh/frozen
1 Small onion, finely chopped
1/2 Tomato, finely chopped
2-3 strands Cilantro, finely chopped
1/2 tsp Tamarind paste or 1/4 cup Tamarind juice
Add about half a cup of water to the tamarind paste and bring it to boil on stove; Add jaggery, salt and all the remaining dry masalas; Boil well. Adjust ingredients according to taste.

Add the peas and boil further till the peas are cooked. The masala should thicken and the peas should blend well into the masala. Save some of the onions and tomatoes for garnishing and add the rest to the peas; Boil for another minute.

Meanwhile, beat the curds in a bowl and keep aside. You can add a few spoons of water if the curd is too thick.

Remove the peas from stove and transfer into separate plates. Pour a couple of spoons of curds on the peas. Sprinkle some chaat masala over it.

Garnish with chopped onions, tomatoes and cilantro. Serve hot
Idli Chaat Recipe....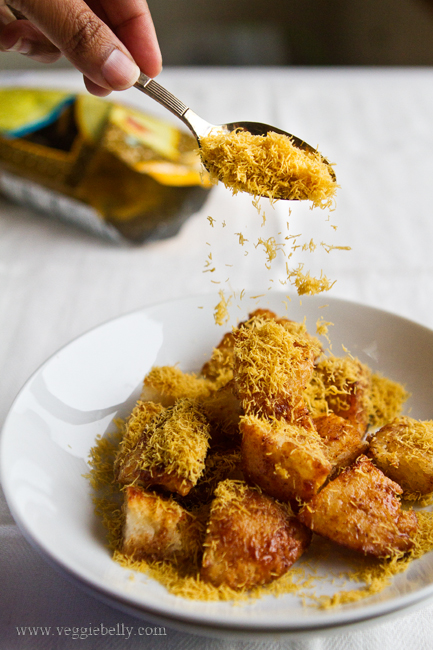 5 regular sized idlis*
vegetable oil for frying
Salt
2 tablespoons tamarind date chutney or tamarind sauce for chaat, available at Indian stores
2 tablespoons sev, available at Indian stores
*Left over idlis are best. Dont use freshly made idlis, they will get soggy. If you must use fresh idlis, cool them thoroughly before using. Idlis are available frozen in Indian stores.
Method
Quarter the idlis.
Pour enough oil in a heavy bottom or non stick skillet to coat the bottom. Shallow fry the idlis on medium high heat till one side is lightly golden. Gently flip the idli pieces and cook till the other sides is golden.
Make sure the oil is hot enough. When you put the idlis in the oil, they must immediately sizzle. If they dont, your oil is not hot enough and the idlis will become too oily. The trick to frying idlis so that they are crisp and golden on the outside, but fluffy on the inside is to use hot oil and fry them quickly.
Drain idlis on several layers of paper towels. Dab the fried idlis gently to take out the oil.
Sprinkle salt over the hot idlis.
Place them in a bowl, add the tamarind chutney and toss gently.
Arrange the idli chat on a serving dish and sprinkle sev on top. If you wish, also use a few of the below garnishes.
Optional garnishes
A sprinkle of chaat masala
Chopped cilantro
Chopped mint
Pomegranate seeds
Chopped tomatoes
Chopped red onion
Chopped cucumber
Roasted peanuts
Sweet Corn Chaat Recipe....
2 Cups Sweet Corn Kernels
1tsp Pudina / Mint Chutney
1 Raw Red Chili, Chopped or a pinch of Red Chili Flakes
½ tsp Black Salt
½ tsp Roasted Jeera / Cumin Powder
½ tsp Chaat Masala Powder
1tsp Butter
1 Onion, Chopped finely
2 – 3 Sprigs Coriander leaves, Chopped finely
Juice of ½ Lemon
Salt to taste
Method:
Boil Sweet Corn until soft. Seive and remove to a mixing bowl. Add Butter and stir in. Add the other ingredients and mix well. Remove to serving bowl and serve.
Aloo/Potato Chaat
Chickpea 1/4 cup
Potato 250 gms
Onion 1 (chopped)
Lemon 1
Red chili powder 1tsp
Cumin powder 1tsp
Green chili 2-3 (chopped)
Coriander leaves
Method:
1.Soak the Chana(black gram) overnight. Boil it adding a teaspoon of salt. Drain off water and keep aside.
2.Boil the potatoes without taking out its peel (potato should not be over boiled). Now peel it out and cut into small cubes.
3. Add red chili powder, roasted cumin powder along with the onions, green chili and
salt mix well. Take care so that potato piece remain intact.
4. Spread chana, lemon juiceand chopped coriander leaves. Toss it so that it gets evenly mixed with the potatoes.
Serve in a bowl and garnish with coriander
leaves.
Sweet Potato Chaat
cut into quartes and boiled in salt water. Decorated with
Tamarind Chutney, Dates Chutney
, red chilli powder and Chaat masala.
Rathalu...Sweet Potato Chaat
Prep time : 10 mins. Cook time : 10 mins. Serves: 2
Adapted from here
Ingredients:
Sweet potato - 2 large

Onions - minced - 1/2 cup (opt.)

Green chutney

- 2 TBSP

Meetha / sweet chutney - 1 tsp

Salt - to taste

Green chillies - minced - 1/4 tsp.

Chaat Masala - 1 tsp

Red chilli powder - 1/2 tsp

coriander leaves & lemon juice - for garnish

Sev / ompudi - for garnish (opt.) : I didnt have any, so skipped it
Method:
1) Wash and slightly peel the sweet potatoes. Bake at 170 C for 10 -15 mins till done.
2) Cool and cube them (with the skin on)
3) In a large bowl, mix all the ingredients. Add the cubed veggies and toss once. Serve hot topped with lemon juice , coriander and sev !
Aloo Kachalu Chaat Recipe
Serves 4 to 6.
This is slightly simplified from Sanjeev's version.
1 1/2 tablespoons freshly squeezed lemon juice
1/2 teaspoon salt, or more to taste
1 teaspoon tamarind concentrate
1 teaspoon chaat masala (see Note)
1 large ripe banana
2 potatoes, boiled, cooled, peeled, and cut into 1-inch pieces
1 sweet potato, boiled, cooled, peeled, and cut into 1-inch pieces
1 hot green chiles, minced
1/4 cup fresh pomegranate arils
Handful of fresh cilantro, chopped
1-inch piece fresh ginger, cut into thin julienne
In a large bowl, whisk together the lemon juice, salt, tamarind, and chaat masala. Add the banana, potatoes, sweet potato, chile, pomegranate, and cilantro and toss to coat. Taste and add more salt if necessary. Pile on a platter and scatter the ginger over the top. Serve at room temperature.
Note: The spice mix chaat masala can be purchased at Indian grocery stores, or you can mix up some of your own, or just sprinkle in a little coriander, cumin, and ground cayenne. Sanjeev's chaat masala: 1/4 cup coriander seeds, 2 teaspoons cumin seeds, 1 teaspoon ajwain, 2 or 3 dried red chiles, 3 tablespoons black salt (which I think is rather a lot), 1/2 teaspoon citric acid, 1 teaspoon amchur, 1 tablespoon regular salt, and 1 teaspoon ground black pepper—whole spices toasted and ground and then everything mixed together. Makes 1/2 cup.
Pav Chaat Recipe..
4 bread buns cut in quarter and toasted...or use normal toasted bread

100 gms fried chana dal

100 gms fried seasoned peanuts

1 red onion cut in cubes

100 gms fine sev

2 tsp cilantro chopped

4 oz imli pani (readymade)

3 oz green chutney (readymade)

1 tsp sweet chutney (readymade)

½ pomegranate (optional)
All readymade items are available at most neighborhood Indian grocery stores.

Method:
Mix all ingredients together adjusting salt and sweetness to taste.When adding imli pani remember that too much will turn the buns into dough.

To garnish, sprinkle cilantro, sev, and pomegranate (optional)

Serve at room temparature,
Dahi Gujiya...Stuffed Dahi Bhalla
For the Gujiyas: [Recipe make 6 gujias]
1 cup white
urad
dal
2 green chilies
1″ shoot of fresh ginger, peeled
1/2 tsp asafoetida[hing]
1/2 tsp salt
Oil for frying
3 green chillies, chopped
3 tbsp chopped cilantro
3 tbsp raisins [ you can use cashews, almonds or any nut of your choice]
1 tbsp fresh ginger julians
1 tsp salt
2 cups thick beaten plain yogurt mixed with 1 tbsp sugar and salt to taste
Red chilli powder
Roasted cumin powder
Chopped cilantro, onion [optional]
Soak the urad dal overnight or atleast 5-6 hours in atleast 4 cups of water.
Next day, drain all the water from the dal and transfer to the blender along with green chillies,asafoetida and ginger.Do not add salt.
Grind the dal in no or as less water as you can use to a smooth paste.Using liberal quantity of water while grinding will loosen the dal and make it un useable. Transfer the ground dal to a bowl.
In a small bowl add all the ingredients for the stuffing and keep aside.
To fry the Gujiyas
: Pour enough oil in the frying vessel to cover the gujiyas while frying.Heat the oil on medium high.To see if the oil is hot enough, drop a little dal into the oil, if it immediately comes up to the surface of oil and does not turn brown, oil is ready.Let the oil remain heated on medium flame.
When you are ready to make Gujiyas
: Whip the ground dal for few minutes by hands till it becomes fluffy. TIP: To check if the ground dal is airy, drop a little whipped dal into a bowl of water,it should immediately rise up to the top. Mix the salt now to the dal.Do not let the dal sit with salt mixed in it, it will make the gujiyas hard once fried.
Take a cling film sheet/plastic sheet and put a dollop of ground dal on the cling film, using wet hand spread the dal into a circle. Put a spoonful of stuffing in the centre of the circle and turnover the cling film to make a semicircle. [See the pictures for more clarity]
Now, spread generous amount of oil on your hands, pick up the gujiyas and immediately transfer to the frying pan.This has to be done within a span of 5 seconds else the gujiya will stick to your palms.
Fry on medium heat untill golden brown on both sides. Once done, transfer to paper towel to drain excess oil.
For serving the Gujiyas
:Soak the gujiyas in warm salted water for at least 20-25 minutes.Once soaked, pick up ,gently press by hand to shake off water.Place the gujias in a serving dish.Top up with beaten yogurt mixture.Garnish with chopped coriander, red chilli powder,roasted cumin powder.
Serve cold or at room temperature with a drizzle of tamarind chutney
If not soaked in water, the gujiyas can last upto a week refrigerated.
The same recipe can be used for making dahi bade/vade,just skip the stuffing part.
Tamarind [Imli] Chutney:
1 cup dried tamarind [easily available in Indian stores]
1 cup jaggery/sugar [adjust to your sweetness liking]
1 tbsp roasted cumin seeds powder
1/2 tsp cumin seeds
1 tbsp red chilli powder
2 tsp black salt [available in indian stores, else replace with normal salt, adjust to taste]
1/2 tsp asafoetida [hing]
3 tbsp dates [khajoor] paste
1 tsp oil
1/2 cup water
Soak the tamarind in enough water for atleast 3-4 hours.
Once soaked , mash the tamarind until pulp is softened. Sieve the pulp into a bowl and discard the seeds and thick fibers.
In a small sauce pan, heat the oil.Once heated add the cumin seeds, as soon as the cumin start to crackle, add all the ingredients listed above to the pan.
Simmer the chutney for atleast 20 minutes, till it starts to thicken.It will thicken more on cooling.
Remove from heat, let cool, transfer to a small bottle or drizzler.
This chutney prepared with this method can last for a month in refrigerator.